Week In Review: Crypto – Hold On for Dear Life
Week In Review:  Crypto – Hold On for Dear Life
US equity indexes were mixed on the week: DJIA -0.5%, S&P 500 -0.4%, NASDAQ  +0.3%. On Wednesday, Bitcoin dropped as much as 30%. WSJ reports Bitcoin reached a recent low of $30,202 before rising to $38,390 as of 5pm EST. The sell-off extended to other cryptocurrencies as well. Take a look here at Wednesday's daily returns of major cryptocurrencies and other global assets in term of their volatility adjusted returns. There were 3 to 4.5 sigma moves in key cryptos. 
Crypto – "HODL": On Monday, Head of Asia Pacific, Grant Wilson published our fifth client report on digital currencies this year titled: The Greenwashing of Crypto is Over.  Here are some of Grant's thoughts: "It is fair to say that we have become progressively more concerned and critical of where Crypto has landed, especially in terms of its boosters. From our perspective, the ESG agenda will inevitably predominate, both because it continues to be institutionalized, especially at the international level, and also because it appeals so strongly to Millennials. Our view is that Elon's volte-face will have a durable impact in terms of institutional adoption of Crypto, and BTC in particular. The reality is that the risk-reward for BTC (which was an already a tough call at the executive level) has been fundamentally altered this past week.  A crash in the price of BTC does not require net outflows. Indeed, net outflows cannot occur, by definition. If there is a shock the price of BTC will gap lower until the bid side of the order book can equilibriate the gross sales. Our view remains that the valuation of Bitcoin via Stock to Flow will comprehensively break down, and is already in the process of doing so." 
Grant goes on to say, "We are persuaded that:
The ESG agenda is absolutely here to stay, and will now constrain institutional adoption of BTC;

The plethora of positive announcement effects for Crypto (these matter more than flows), that culminated with Coinbase's IPO on Apr 14, will now be more difficult to sustain;

Popular on–chain metrics such as NVT, SOPR, MVRV, funding rates, mining difficulty, have less relevance in the short term, as this is now more macro than micro;

Regulators and governments, worldwide, will be viewing this break with the one-way narrative positively, and will be encouraged to further highlight BTC's deficiencies in terms of energy consumption, particularly given the difficulties of regulating Crypto via traditional channels.
All told, we think the dominance of BTC is set to fall further, and that a durable rotation toward 'green' Crypto may now be taking shape."
Grant spoke to CNBCi's Joumanna Bercetche on why Elon Musk pulling the plug on Bitcoin is an existential threat for Bitcoin maximalists (but not for the entire crypto sector) in this short clip. 
Chart: The rolling monthly regressions below suggests that NASDAQ moves alongside Bitcoin, and that gold has a weak relationship with the cryptocurrency.
Ahead Next Week: Select economic releases. Next week sees  RBNZ/BoK/Bank Indonesia/Hungary monetary policy decisions, Trade Balance releases for Turkey/Mexico/NZ/Sweden/Switzerland, Brazil Current Account, Fed's Gov Brainard speaks on Digital Currencies at CoinDesk Conference
Sunday, May 23: NZ Retail Sales (Q1).
Monday, May 24:Germany/Switzerland/Norway/Hungary/Canada Holiday.Fed's Gov Brainard speaks on Digital Currencies at CoinDesk Conference, Bank Indonesia monetary policy decision. 
Tuesday, May 25: Hungary monetary policy decision, Germany GDP Q1 revision, Germany IFO Business Climate (May), Mexico Trade Balance (Apr), Mexico Current Account Q1, US New Home Sales (Apr), ECB's Lane at the Strategy Review event organized by PIIE, Fed's Vice Chair for Supervision Quarles on Supervision and regulation before Senate Committee on Banking, Housing, and Urban Affairs, NZ Trade Balance (Apr), RBNZ Monetary Policy Decision/Press Conference.
Wednesday, May 26:  Mexico GDP Q1, Brazil Current Account (Q1), Fed's Vice Chair for Supervision Quarles speaks on the Economic Outlook, Japan Foreign Investment in Japanese Stocks/Foreign bond buying, Bank of Korea Monetary Policy Decision.
Thursday, May 27:  Sweden Trade Balance (Apr), Switzerland Trade Balance (Apr), ECB's Schnabel speaks at Forum New Economy, US GDP Q1 revision, US Durable goods orders (Apr),  US Pending Home Sales (Apr).
Friday, May 28: Turkey Trade Balance (Apr), Sweden Retail Sales (Apr), G7 finance ministers and central bank governors meet virtually, EZ Consumer Confidence (May), US Goods Trade Balance (Apr), US PCE Prices (Apr), US Personal Income/Spending (Apr), US U of Michigan Consumer Sentiment (May). 
USD Comment
USD was  modestly lower on the week. The DXY Index broke key 90.00 support – the low was 89.67. However, DXY ended the week at 90.00. USD's  underperformance was essentially in line with what would be expected given the slight equity weakness this week.  EURUSD ranged 1.2126-1.2243. GBPUSD ranged 1.4078-1.4228, with GBP supported as UK re-opening proceeds. See mobility reports from Google showing the Global GDP-weighted index of Retail & Recreation Patronage recovering in EU and UK here. Higher Beta FX was negatively impacted by Wednesday's risk off sentiment. AUDUSD pushed above 0.7800 on Tuesday (high 0.7808), on broad USD weakness as the DXY Index fell below 90.00, but ended the week at 0.7725. NZDUSD ranged 0.7268-0.7154. NOK was the weakest vs USD on the week. USDNOK high was 8.4089. CAD escaped the risk off unscathed and rose modestly vs USD on the week. Canada had a strong retail sales report for March released on Friday. JPY and CHF strengthened vs USD on the week.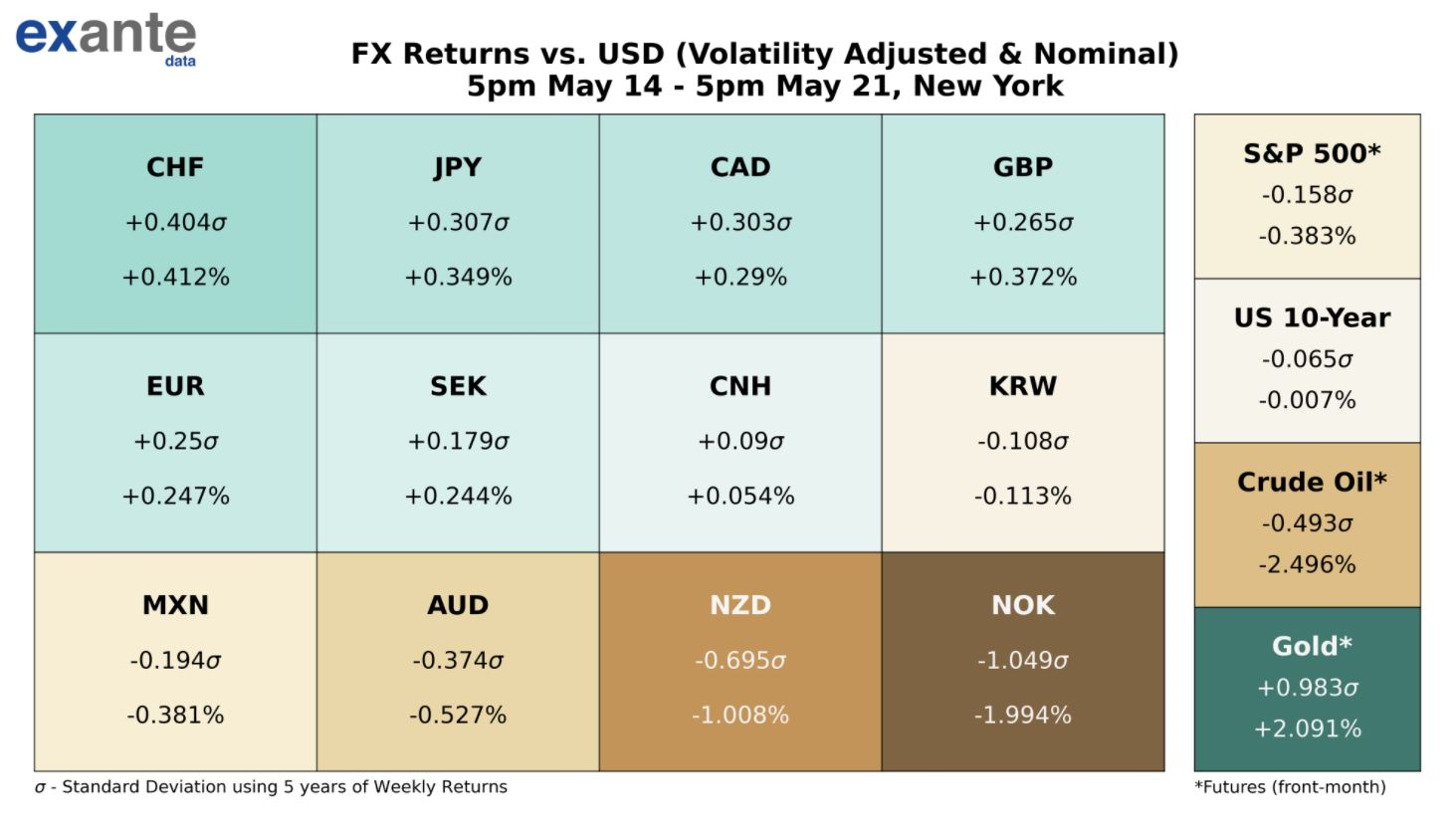 Coronavirus Update
On momentum in new Covid cases,

see this chart.

Jens Nordvig notes

, that "Southern Europe (France, Spain, Italy) now have dots that look very similar to the US (which is in a good position). The improvement is material in the warmer parts of EU, and the more Northern parts (Germany, Denmark, Netherlands) seem likely to follow very soon."
On vaccination rates: Strategist Martin Lynge Rasmussen notes,  "The surge in the number of doses administered in China continues, and the country now administers 1 dose per 100 people each day. The vaccination speed in the EU and US is still trending down, though the US has seen a slight uptick in the last couple of days. In the EU, the number of doses in Germany has fallen sharply, and Italy is the only among the four largest EU economies where doses administered has been stable. Major EMs now vaccinate at a slower pace than other EMs and frontier markets. "
Chart: Select Countries – Daily New Vaccine Doses Administered per 100k people (7d ave)
Exante Data Happenings & Media
Founder Jens Nordvig published a new substack blog: The End of US Exceptionalism. "For some months, the US looked exceptional. Better vaccine roll-out. Bigger fiscal policy push. Bolder reopening. And economic and market indicators showed it, too. Consumption spiked well above pre-pandemic levels and US yields started to move higher in anticipation of 'normalization'. Finally, equity investors put a huge bet on US equities, with foreign investors accumulating US stocks at unprecedented speed in 2020 and into 2021. But there are cracks in the exceptionalism narrative, and the money flow are at risk of a dramatic reversal."  
Jens talks The End of US Exceptionalism with Amelia Bourdeau and shows key charts in this short video. 
Jens' Twitter was voted as one of the FinTwit Power 20 by the readers of Brent Donnelly's HSBC AM/FX note. Jens was recognized in four categories: Global Macro, FX, Fed, and EM. Congratulations to everyone in the FinTwit Power 20 – Jens and Exante Data are in good company. To all those who participated in the poll, thank you for your support. 
How to reach us: 
Our Substack is public 

– Join us in discussing and debating macroeconomic topics –

Subscribe

here

. 

If you are an institution

and would like more information

on our most recent client video call, our Macro Strategy, Global Flow Analytics, Exante Data API services, Digital Currency Series, and/or our Covid / vaccine rollout research —

please reach out to us

here.