On Monday, Pfizer and BioNtech announced that their "vaccine candidate was found to be more than 90% effective in preventing COVID-19 in participants without evidence of prior SARS-CoV-2 infection in the first interim efficacy analysis." In this interview, Axios speaks with Pfizer CEO Albert Bourla about vaccine data, distribution, politics, and how he reacted upon receiving the news (starts 2min in). 
As a result of the vaccine news, the Dow and S&P 500 had strong weekly gains: DJIA +4.1%, S&P 500 +2.2%, but tech-heavy NASDAQ lost 0.6%, as investors favored stocks that would benefit from a vaccine, while tech/stay at home stocks experienced some rotation out. 
Gold was also impacted by the positive vaccine news. This week saw largest outflow in gold ETFs since Dec 2019 (chart below captures US flows only). Flows into Gold ETFs have been weakening since March 23 (peak) when the S&P 500 bottomed.
We have highlighted previously how COVID-19 was imparting a historic shock to end use demand (principally jewelry), and the importance of monitoring offsetting inflows via ETF space as a consequence. Head of Asia Pacific Grant Wilson notes, "In many ways, the worst case for Gold would be an efficacious vaccine for COVID-19 that is prioritized for deployment in the developed world. In this scenario, real yields in developed markets may reprice, at a time when COVID-19 is still suppressing demand for Gold in the developing world."
Ahead Next Week:  Select economic releases: Sunday, Nov 15: Japan GDP (Q3), China Fixed Asset Investment and Industrial Production (Oct).  Monday, Nov 16: Norway Trade Balance (Oct), ECB speech Pres Lagarde at Opening of World Economic Forum's Summit, Fed Vice-Chair Clarida speech on Monetary Policy, Fireside chat-ECB's Mersch on monetary policy issues at OMFIF event, Australia RBA Minutes. Tuesday, Nov 17:  Norway Q3 GDP, Canada Housing Starts (Oct), US Retail Sales (Oct), Canada Foreign Securities Purchases (Sep), US TIC data (Sep), US IP & CU (Oct), Participation by ECB Pres Lagarde in Q&A – Bloomberg New Economy Forum. Japan Trade Balance (Oct) Wednesday, Nov 18:  EU Ambassadorial meeting (tentatively) slotted to talk Brexit, UK CPI (Oct), EZ CPI (Oct), Canada CPI (Oct), US Housing Starts/Building Permits (Oct), BoE Gov Bailey Fireside Chat at Carnegie Institute for World Peace, Australia Employment (Oct). Thursday, Nov 19: CBRT policy meeting, ECB Pres Lagarde Intro statement at Hearing before Committee on Economic & Monetary Affairs (ECON) of European Parliament, EZ Current Account (Sep), US Initial Jobless Claims,  Japan CPI (Oct), Australia Retail Sales (Oct), PBOC Prime Loan Rate. Friday, Nov 20: ECB Lagarde speaks at European Banking Congress, UK Retail Sales (Oct), Canada Retail Sales (Sept). 
USD Comment
USD was mixed this week – despite positive vaccine news, it was not a one way street higher for US equity indexes as there was focus on rising US Covid cases and uncertainty post-US Election about the outlook for further fiscal stimulus as well.  DXY Index began the week just above 92.00 support, reached a high of 93.19 and ended at 92.72. NZD gained supported by RBNZ's upward revisions to the economic outlook and acknowledgement of the strong housing market. NZDUSD reached a high of 0.6913. EURUSD ranged 1.1916-1.1746. GBPUSD ranged 1.3293-1.3107. Reduced uncertainty around the US election combined with the vaccine news, supported MXN. You can see our USD November Seasonality from our proprietary FX factor model here.  USD is weaker in November vs G10 FX.
New US Online Jobs Postings – Data LinkUp
The chart below shows Daily New Online Jobs Postings, 28dma, Y/Y% – national and for the states with largest economies.  Recently, at a national level, US jobs postings growth has turned positive (black line) – good news. Illinois job posting growth (gray line) has accelerated. Texas and Florida jobs growth are also positive – keeping pace with the national figure. California and New York are lagging. Here is the heatmap of all US sates sorted from worst to first. Illinois is the state with the strongest jobs posting growth and tourism ravaged Hawaii has the weakest.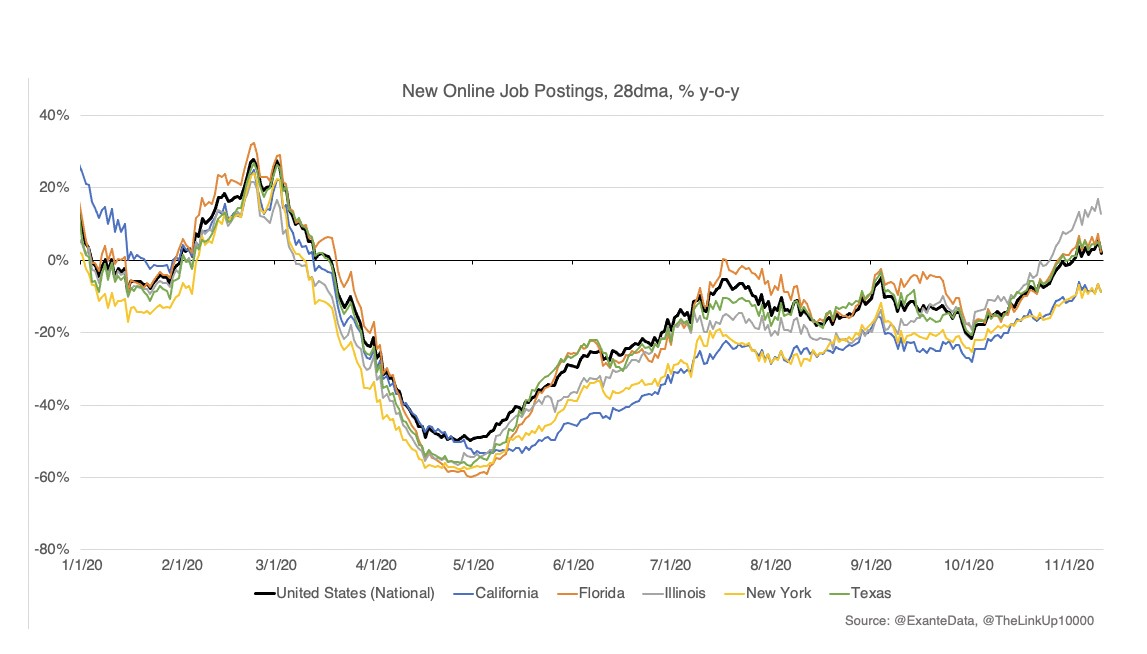 Coronavirus Update
US:  The US 3rd wave continues to spread geographically and accelerate nationally. New cases continue to hit fresh highs and the national positive test ratio is now above 10%. A growing chorus of Mayors and Governors are taking action via mask mandates, curfews and restrictions on indoor dining, gyms and bars – see, for instance, Chicago restrictions. Case growth has now clearly started to pickup in NYC as we expected given the severity of the outbreak in surrounding areas. Nationally, COVID hospitalizations are at or approaching all time highs even as the caseload is more dispersed than in the 1st and 2nd waves. North and South Dakota have the highest hospital pressure pressure in per capita terms. See chart: US States Current Hospitalization vs. Peak, per Mn here.  We now have 19 states with growth rates above 2%. Hit ratios are also rising broadly. See US states heatmap and hit ratios here. 
Charts: Comparing trends in the US regions, one can see the surging case growth in the Midwest. Unfortunately, our forecast shows that the Midwest region will have 1045 fatalities by Dec 04, and is seeing the greatest increase in fatalities over the forecast period.
International: There are signs of encouragement that lockdowns and policy tightening are bringing case growth down in Western Europe. However, mobility data does suggest some economic drag from these measures (chart below). Central/Eastern Europe have yet to see the same kind of improvement (except the Czech Republic).  Spain, Belgium, the Netherlands and the UK look to be on better trends with daily cases stable to falling. You can see our grid of week-on-week growth of new cases to get a fast read on whether policy measures are starting to work here. 
Exante Data Happenings
Senior Advisor Brad Setser has joined the Biden-Harris 2020 Transition Team.  Brad is a member of the Office of the United States Trade Representative agency review team.  As such, Brad will be on leave from his role as Senior Advisor to Exante Data.
Brad has been analyzing global capital movements for more than 20 years, and we regard him as one of the world's top experts on this topic. At Exante Data, we have sought to embed Brad's analytical approach into our Global Flow Analytics platform – this tool will remain a core part of our client offering into 2021.  See the full press release here. 
For the first time, we are doing a video call for a broader audience (clients as well as prospective clients) on 17 November. Following the US Presidential Election, we will discuss: The Big Picture for the Dollar, A Regime Shift in Chinese Capital Flow; The Outlook for the US and Chinese Balance of Payments; Has the Time for the Yen Arrived?; EM Flows Positioning.
If you are an institution and would like to join our 17 November presentation and/or would like more information on our Macro Strategy, Global Flow Analytics, and Exante Data API — please reach out to us here.